I recently received a copy of a new book titled "Green BIM: Successful Sustainable Design with Building Information Modeling" by Eddy Krygiel, AIA and Brad Nies, AIA with foreword by Steve McDowell, FAIA - all LEED Accredited Professionals with BNIM Architects. Mr. Nies is Director of Elements, the sustainable design consulting division of BNIM.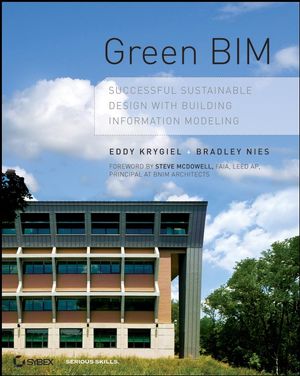 "Green BIM" provides an excellent - albeit somewhat basic - overview of building information modeling, sustainable design practices and integrated design teams. If you have senior team members or management who are still trying to grasp the concept of BIM, this book is a worthy primer.
Krygiel and Nies share their real world experience at BNIM on 'green' projects such as the Lewis and Clark State Office Building. For the BIM cognoscenti, the Green BIM approach is more about process than tools which is why you will find the chapter on Integrated Design Teams both surprising and enlightening.
While the term "BIM" is used in the generic sense, the authors have been long-time users of Revit and the methods described in the book are illustrated with screenshots and tips for Revit Architecture. Sustainable design encompasses a body of information probably too vast to be addressed in one publication, but "Green BIM" highlights some entry level techniques one can harness today with readily available software.
The only downside to this publication is the lack of color in the many charts and graphs provided throughout "Green BIM." Using 7 or 8 different shades of gray does not make such illustrations very readable. If cost was a factor in the production of the book, the authors might have been better off using varying line types instead. By the way, the book is printed on recycled paper with soy inks - not quite the vision of "Cradle to Cradle" author William McDonough, but a step in the right direction.
Rating: 3 of 4 stars
http://www.wiley.com/WileyCDA/WileyTitle/productCd-0470239603.html